Viaggio lungo un giorno e destinazione "a Volume di Candela"
Proprio il 26 aprile sarà il giorno in cui la nave Webindra salperà per un nuovo viaggio che condurrà l'equipaggio verso un tempo ed uno spazio … "a volume di candela".
Già perchè il luogo è l'unica cosa certa…
il bellissimo Ricetto di Candelo.
La nostra vela sarà il laboratorio permanente-itinerante di improvvisazione The Music In You che dopo 5 anni di attività, l'attuale collaborazione con il prestigioso Novara Jazz Festival e la recente presentazione alla conferenza indipendente TEDxnovara, porta l'innovativa e coinvolgente metodologia in un viaggio di musica, danza, pittura al Ricetto di Candelo in provincia di Biella per una giornata di espressione, ricerca e dialogo.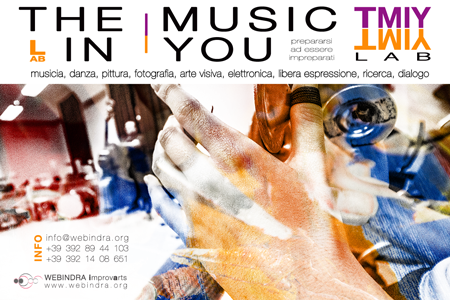 L'incontro in forma di stage inizierà a partire dalle 9.00 del mattino e durerà per l'intero arco della giornata concludendosi intorno alle 19.00, con le dovute pause pranzo e coffee break. Il lavoro collettivo è progettato per accogliere una moltitudine di arti espressive – musica, danza, pittura, teatro, video arte, elettronica – in uno spazio caratteristico del Ricetto di Candelo che per l'occasione sarà allestito con le opere pittoriche originate dalle improvvisazioni collettive dei partecipanti al percorso annuale The Music In You.
Pochi i requisiti richiesti per partecipare: "Un'enorme curiosità, un'inesauribile spirito di ricerca ed un formidabile appetito di esplorazione."


Che altro dire se non che il viaggio porterà ad uno strano e speciale evento "A VOLUME DI CANDELA" all'interno del Ricetto che per l'occasione vivrà una particolare trasformazione a partire dalle ore 21 circa.
Fare parte dell'equipaggio è possibile!!!
I posti sono limitati ma ancora disponibili: unitevi alla nave The Music In You!!! Si salpa il 26 aprile 2015!!!
Aderisci su EVENTBRITE
Evento su  Facebook
hashtag #themusicinyouwebindra
[cincopa AMPAiec4MJz1]