Press release
Mail-art 
Manifesto Brut  & Acrodacrolivres
The Manifesto Brut & Acrodacrolivres present an exhibition of Mail Art "Pollination" as part of the London Biennale whose director and founder is David Medalla. 
This year, the London Biennale will begin on May 1st at 6pm in Soho Square.
Considering the friendship, which binds me to the director of the London Biennale and as co-founder of the Manifesto Brut with Michael Beauvent and sharing the principles of freedom, collaboration, universality, diffusion of information, and communication, we have the honor to participate at this event with an exhibition of mail art.
The Mail-Art is an experience of conceptual and behavioral art developed in the 60s the promoter was the American Ray Johnson from the Fluxus movement, an international art movement founded by the Lithuanian George Maciunas and embraces all the different artistic expressions.
Many artists have joined this movement as Allan Kaprow, Robert Raushemberg, Christo, La Monte Young, Robert Watts, the Japanese group Goutai, the group of visual poetry and many others.
The most fascinating part of the Mail-Art, with the exception of the gratuity and the not request for a response, is the desire to communicate their thoughts, ideas, feelings, fears and joys with friends and strangers from the entire planet.
In short, an art far from ruthless haggling of an exigent supermarket. Not submitted to the pressures of a conditioning created by artistic canons imposed by a history of art and written by historians and art critics which in classifying it, distort the soul and the sense of it.
The Mail art is a great lesson of democracy, everyone can participate, and all the artworks exhibited.
Non-discrimination is typical of Mail Art, principle, founded in the thought of the Manifesto Brut also.
Approximately seventy international artists with more than one hundred and fifty works of art will be participating in this special event held in the space of the artistic and literary center Acrodacrolivres 21 Rue du Tienne 1495 Tilly (Villers-la-Ville) Belgium.
The Manifesto Brut is a movement out of the system, an alternative in the world of art and its current market.
PS / by clicking the links below, you can get an overview of the artworks on our web site and the site of Acrodacrolivres.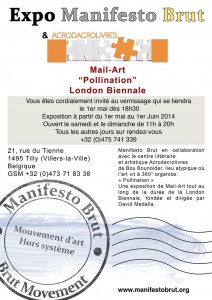 http://www.manifestobrut.org/exhibitions/category/6-london-biennale
http://acrodacrolivres.be/exposition-mail-art-pollination/