Roberta Camerotto | ArtigianArt
I was born in Biella July 9 , 1976 and grew up in Mongrando .
My passion, sewing , one can say that it began as a joke . At 18, with a friend I decided to enroll in a course of cutting and sewing, so … more out of curiosity than anything else.
In spite of that course I liked it at all, the needle and the thread had already piqued my interest then , after finding another course I continued my training .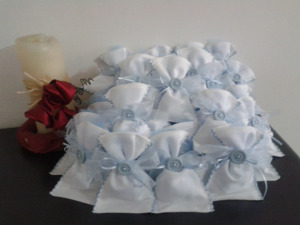 After learning the basics of the pack , and rebuilt the wardrobe myself, more and more curious to study and learn the concepts of tailoring, I continue with classes and modeling appear. Start doing simple repairs like hems and zipper replacements for friends, family, neighbors, and for some shop and from there begin to arrive the first requests for package tailored skirts, pants, shirts, coats, carnival costumes and even wedding dresses and gowns. Sometimes unique items tailored and at other times I was asked to make clothes inspired by photos given to me . By working in different laboratories have acquired different techniques and improved my. Two years ago, after I found to be pregnant and taking advantage of the fact that unfortunately I had just lost my job , I started to prepare the equipment for the baby on the way. Well, this kit has proved so successful that, after hearing so many people insist that I must continue to produce, I let myself be persuaded. I decided to get back into the game and reinvent myself, I focused first on early childhood crafting and customizing kits and bibs, slings, nappy, bumpers, bathrobes, hair bows birth, diaper cakes, party favors, complimentary seekers …everything and more.
Then I introduced creative sewing and creative recycling, giving shape and life to new and unused materials thereby creating items for the home and pretty and original gift ideas. Normally for my creations using fabrics produced in the territory, then depending on your needs choose which material or fabric to use. The greatest satisfaction, and at the same time the greatest stimulus, are an expression of congratulations and who remains satisfied after having ordered something from my creation. I love these challenges and the charge they give me. Well … yarn needle and fantasy are my companions in adventure , an adventure, that I would like to share with you.
Roberta Camerotto.